Last night was the broadcast of the 87th Academy Awards, AKA the most prestigious cinematic awards show of the year. Besides the usual random knowledge of who is everyone's plus-one and who made each person's outfit, I actually picked up a couple life lessons applicable to the life of an average UCLA student. Who says you can't actually learn anything from watching television?
1. Laugh, even when no one else is doing it
Laughter is like instant social lubricant; it can diffuse any awkward situation, even when that situation is a terribly told pun to a room of Hollywood's most famous. In attempt to creatively introduce the next presenter, Reese Witherspoon, the host of the show, Neil Patrick Harris, said, "This next presenter is so lovely you could eat her up with her spoon." *crickets* However, who could stay mad long when he flashes that gorgeous smile? His terrible joke managed to remind everyone to take themselves a little less seriously, something we all need to be reminded of from time to time. If all else fails, pull a Neil and just stick by your work, even if no one else is willing to do so.
2. Call your parents
Let's get a little sappy for a moment. It is easy in the hustle and bustle of exams, extracurriculars and napping, to forget about those people who just happened to take care of us for 18 years. Thanks to J.K. Simmons, Best Supporting Actor winner, the millions of people watching the broadcast were reminded to call up their biggest fans, their parents. This particular fandom may be small, and it may lack a catchy nickname, like Lovatics or Beliebers, but it is the most important one of all. Pro tip: follow Mr. Simmons' advice closely and avoid texting a quick, "Hey, what's up?" Using your phone for its actual intended purpose could be nice for a change.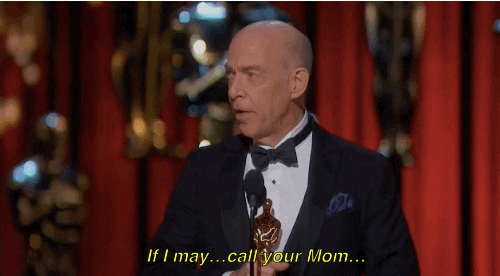 3. Everything truly is awesome
College students are notorious for complaining about everything. Walking around campus is essentially a full-time job at UCLA, the curve can be a real challenge and the lines are actually ridiculous. However, the adorable and nostalgia-filled spectacle that was performance of The Lego Movie's "Everything Is Awesome" helped put these daily annoyances into perspective. All that walking gives us super-toned calves, the long lines lead to delicious food and we are incredibly lucky to go to a school as highly academically renowned as UCLA. Plus, if dancers can jump around in cheesy, uncomfortable costumes on national television, then I can totally walk up a few stairs.
4. Don't be afraid to voice your beliefs
Several stars used the worldwide exposure to promote something other than their favorite gown designer. Reese Witherspoon took to Instagram before the event to promote #AskHerMore, a movement centered around expanding the types of questions asked on the red carpet to female celebs. Steve Carell sported some #HeforShe cuff links, in support of the UN's campaign for gender equality. Patricia Arquette called for America to step up its protection of equal rights for women in her Best Supporting Actress acceptance speech.
You don't have to be a powerful movie star to support an awesome cause, there are plenty of outlets on campus to get involved and make a difference. Who knows, you too could earn a celebratory hand point from the queen of cinema, Meryl Streep.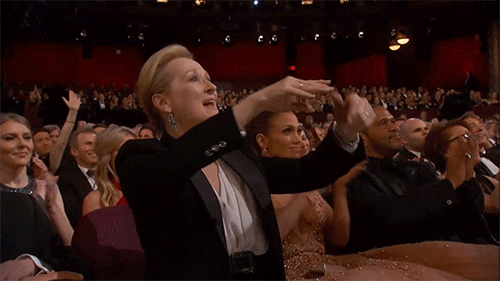 Yes Meryl, yes.
Did you watch the Oscars last night? Tell us what you thought in the comments below or tweet us at @dbmojo!
---
comment(s). Add yours: