Super Bowl Sunday is over, and students living in apartments are dreading the cleanup of viewing parties, but unfortunately not everyone had the opportunity to watch the Seattle Seahawks face off against the New England Patriots on the year's most important day of football. Or maybe some of us just didn't prefer to (yup, that's me). Either way, here are some highlights from the NFL Super Bowl XLIX, as told through GIFs.
Idina Menzel sure did "Let It Go" with her vocals by nailing the national anthem.
Just like us, football players get the munchies before the game starts.
Sports stuff happens. Like kicking balls.
And touchdowns.
Looks like some serious stuff.
But then the best part: halftime. Katy Perry sure did make a "Roar" while performing for the halftime show this year.
She came into the stadium on her "Dark Horse" (if you call that a horse).
She might have kissed a girl, but no kisses for Lenny Kravitz.
She pointed out to the stage and told us to live our "Teenage Dream," but for most of us that teenage ship has sailed. Sigh.
Katy Perry danced around with her "California Gurls." But wait, is that a – I'm not even gonna ask.
Missy Elliot joined too, and she sure did "Work It."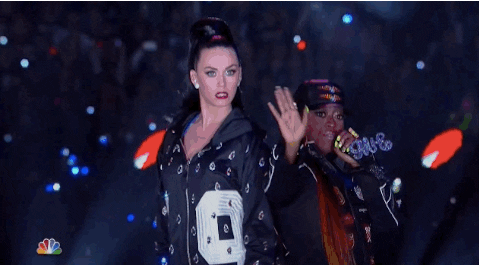 Then Katy Perry flew up into the sky like a "Firework," and ended with a bang.
And there were the much anticipated commercials. Kate Upton made her way off of Trivia Crack and onto our TV screens with her ad for Game of War.
Kim Kardashian speaks of the tragedy of unused cellular data.
Budweiser used puppies to make everyone's heart melt.
Oh yeah, and then more sports stuff happened. Like touchdowns.
And impressive hand-eye coordination.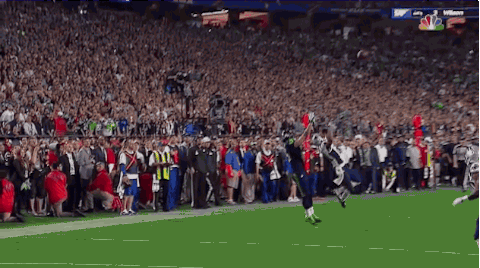 A little bit of dancing.
Maybe the dance battle went a little too far…
Tom Brady looks happy. So I'm assuming the New England Patriots won.
Yep. They sure did.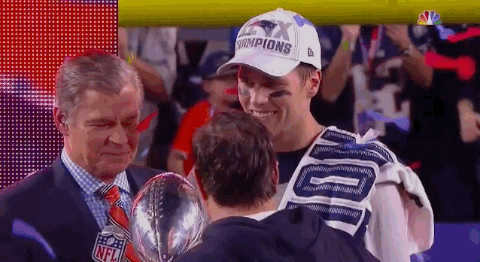 Final score:
New England Patriots      28
Seattle Seahawks                     24
Congratulations to the Pats…
But we all know who the real winner was tonight. You live your life, Mr. Shark.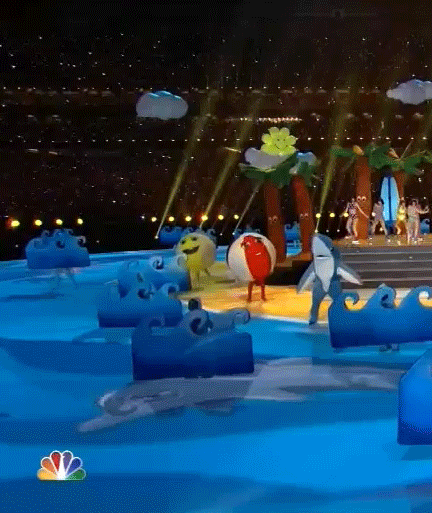 ---
comment(s). Add yours: